Mission
The purpose of the Rib Lake Public Library is to provide library service to members of the community. The Rib Lake Public Library Board recognizes its responsibilities to carry out this mission and constantly work for improvement in the library services offered and updating of the materials provided.
Library Staff:
Audrey is our Hidden Gem. She's worked here longer than all of us. Audrey started when her children were still in school and now she's a grandma! Audrey loves to do the pull list because she says it's like a treasure hunt. You have to hunt to find Audrey because she works only a few hours a week. It's like trying to find a unicorn!
Danielle is our Jack of All Trades. Danni does displays, promotes our new books and movies, weeds out old materials, helps Ms. Krista get ready for StoryTime, and is our back up cataloger. She's worked here about 7 years, and is always ready to learn something new!
Amy is our Bilingual Steering Coordinator. Amy speaks Spanish, so she's extra helpful when we need someone to work with a Spanish speaking patron, or translate information & instructions. She also loves working with lists and is helping us weed and reorganize the different sections of the library. Her bubbly personality makes everyone feel welcome when they visit the library.
Alise is our Artist in Residence. She painted the amazing mural on the wall in our children's section. Alise has written and illustrated a number of children's books! Her eye for color, and creative ideas add a whole new dimension to our library.
We couldn't do this without them!
2022-2023
Library Board Members
Deb Gojmerac -President
Sara Robisch– Vice President
Tammy Everson – Secretary
Pearl Kauer – Treasurer
Megan Beckstrand – Village Board Rep
Thank you for volunteering your time to support the Library!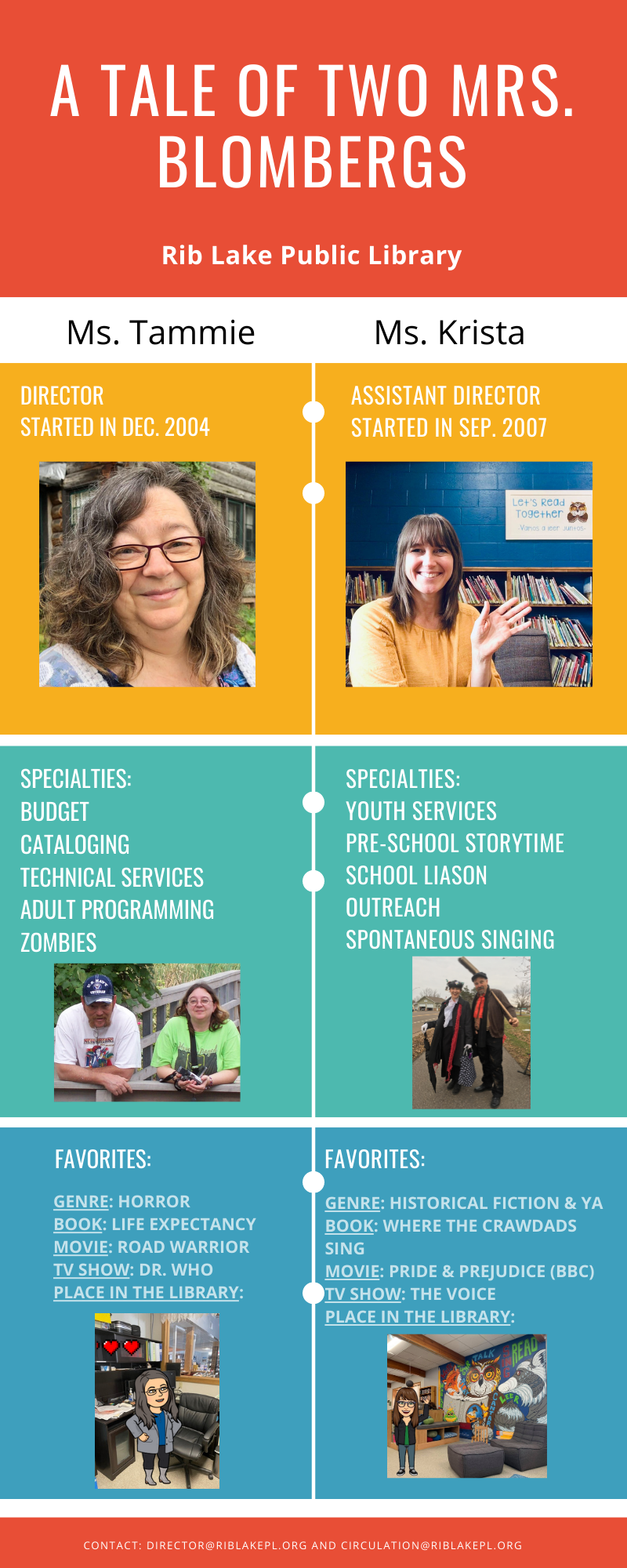 History
On February 6, 1900, the Free Library Association was established, and the officers elected: President- E.C. Getchell, Vice President- Mr. William Pringle, Secretary- Mrs. J.E. Kennedy, Treasurer- Mrs. A.M. Corbett. February 9, 1900 the constitution was written, and committees were formed: Finance, Room, Book & magazine and Library Service.
The Executive Committee motioned on March 3, 1900 to purchase the building know as the "Old Harness Shop" owned by Mr. Knower for $50. Another motion was made to purchase the north half of a lot/block that was part of the McComb Racing Park Addition for the price of $50 with a $10 down payment. The balance was to be paid within two years. The money to purchase the building, lot and books was raised initially through a school district play, "Rebecca's Triumph" ($60.73) in April of 1900. A Japanese social, Ice Cream social, Election Day Dinner, lectures and donations all raised money in the year 1900.
Miss Scott's pupils gave a small sum, a high tea raised money, fines, cookbook sales, pillow sales, and strawberry social and a leap year party all raised dollars for the library in the first years of existence. The first librarians in the year 1901 were Mr. Edwards and Mr. Byers. Miss Anna Mae Kennedy was librarian beginning in 1903.
The village of Rib Lake first donated support to the library in 1906 in the sum of $50 and thereafter gave consistently. The village took over the building responsibility in 1927 when the old red brick building built by W.F. Weaver was opened on February 25.
The same year the Village Hall on McComb and the addition to the Old high school building was added. Catherine Kennedy was the librarian at that time.
County support for the library began in 1946, and in 1957 the town of Rib Lake donated support.
In June of 1996, the Rib Lake Public Library Board received 3% of the Mildred Schmidt Estate and in 1998, 10% of the Keith Zintz estate. A letter of interest from the village board to purchase the Clearview property was given to the school board in October of 1999. The village board and library board met together in May of 2000 to discuss feasibility of space, cost and sharing the building. The Village closed on the Clearview property September 1, 2000. Renovation by O'Donnell Engineering and Wittman Construction began in May 2001 and completed in August 2001.
From 360 to more than 5,000 square feet in a 100 year span to house many services and a collection of 24,000 materials, the Rib Lake Public Library goes beyond the walls to include e-books, a web based catalogue (V-cat), membership in the Wisconsin Valley Library System, and the latest technology.