Rib Lake Public Library is proud to be the primary sponsor of the Community Picnic Shelter Project.
Donations can be made at or mailed to the Library, Nicolet Bank, or the Village Hall.
The picnic shelter will be located in the lot next to the basketball court.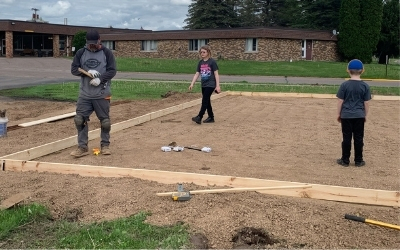 May 27, 2021 Update The Star News had a nice article with pictures about the picnic shelter and the ground breaking. Last week the Rib Lake village crew dug the area for the concrete foundation. Sand was delivered by Randy Thums. Over the weekend volunteers put down the form to get ready for the...
May 11, 2021 Update Members walked the building site to adjust measurements and placement of the building. We agreed on a 24 x 40 foot building, with an 8 foot enclosed storage area on the east side. This will leave a useable area of 24 X 32 feet of space for programs. Poured concrete will be 25 X...